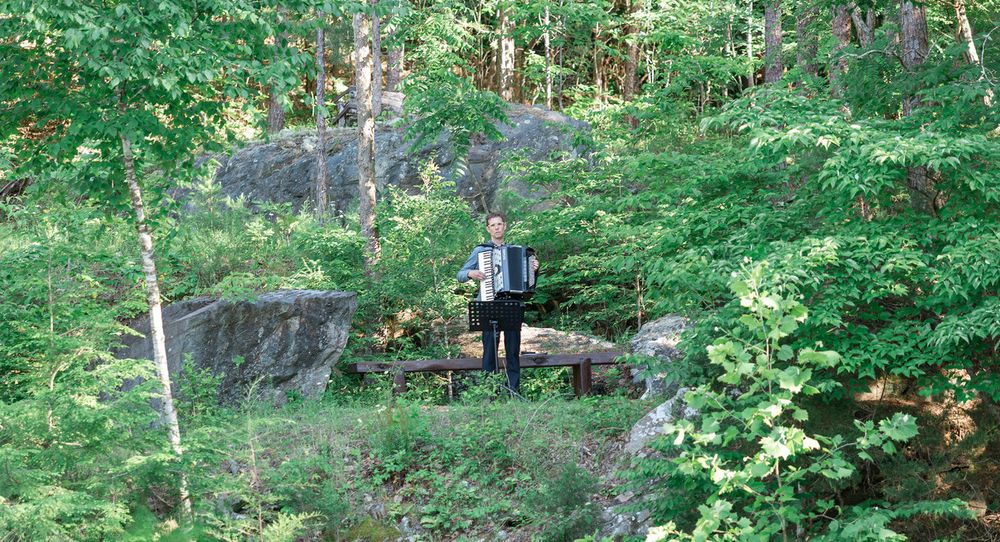 Will Holshouser was given an old accordion when he was young and impressionable and was soon bewitched by its charms. Since then, he has become one of the busiest, most versatile accordionists in the U.S. and a composer of unique, colorful music. He leads several of his own groups and performs all over the globe with leading jazz, world, pop and classical artists. Will's music relates to multiple music traditions and draws on the deeply expressive and fun-loving aspects of his chosen instrument, incorporating melodies you can whistle, pulsating rhythms, mesmerizing hymn-like tunes, rich jazz harmonies, subtle soundscapes and exciting improvisation.

Will began playing accordion in the late 1980s when a friend gave him an old squeezebox as a surprise. At the time he was studying music in college; the accordion let him branch out to playing in bar bands, learning many kinds of folk music, and doing an eclectic range of work on the New York scene. He has since performed in over 30 countries around the world. In addition to leading his own groups and writing music, Will has played with a wide variety of artists including jazz violinist Regina Carter, modern klezmer clarinetist David Krakauer, Dutch trumpet phenomenon Eric Vloeimans, Suzanne Vega, Antony and the Johnsons, Michael Winograd, Han Bennink & Michael Moore, Lisa Gutkin, Guy Klucevsek, Uri Caine, Martha Wainwright, Loudon Wainwright III, Andy Statman, and many others. Three albums of his own music for trio, featuring trumpeter Ron Horton and bassist Dave Phillips, have been released by the Portuguese label Clean Feed. His group Musette Explosion, a collaboration with Matt Munisteri on guitar and Marcus Rojas on tuba, made it to Billboard's Jazz Albums chart and was featured in an interview on NPR's Fresh Air. He has been commissioned as a composer by the American Accordionists' Association and Bachtopus Accordion Ensemble. He has also worked on Broadway, in the studio with film composers including Elliot Goldenthal and Rachel Portman, and with classical ensembles including NYC Ballet, NYC Opera, Brooklyn Philharmonic, Ensemble Connect and more.
Will studied accordion and composition with his mentor Dr. William Schimmel, and composition with Tania León, Dalit Warshaw, Anthony Braxton, and Bill Barron. He lives in Brooklyn, NY with his family and teaches at Brooklyn College. Upcoming projects in 2022 include an album release and US tour as a duo with Eric Vloeimans.